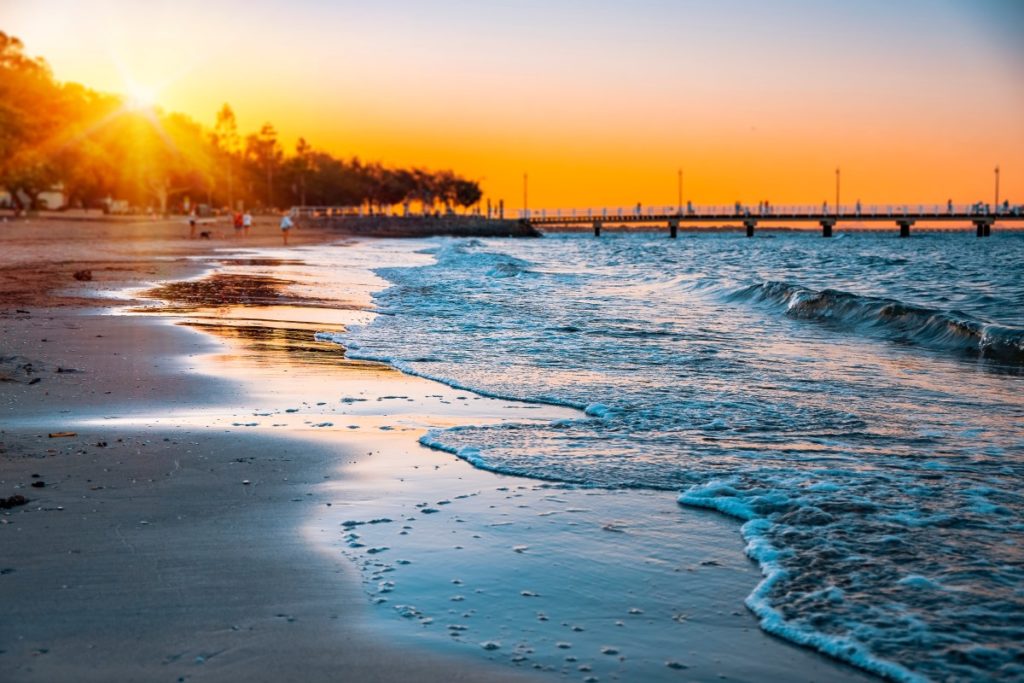 Sandgate Beach in the Moreton Bay Region.
*Beaches are generally 15 – 30 minutes drive from the developments 
Moreton Bay Region is one of the highest-growth Local Government Areas (LGA's) in Australia, spurred by high levels of infrastructure spending and attractive housing affordability.
This is attracting interstate migrants, first-home buyers and investors to the area, driving strong demand for housing.
With 3,800ha of vacant land suitable for residential and commercial projects, the region is expected to grow 40% over the next 20 years.
The Moreton Bay Region is strategically located between central Brisbane and the Sunshine Coast, making job nodes easily accessible. Properties are not only affordable but many suburbs are near the water, providing a sought-after lifestyle.
With ample land suitable for development, combined with recent changes to rezoning laws, the number of applications for residential estates has increased in the last 12 months. These are accompanied by construction of the $2 billion North East Business Park and a new university campus, which are creating new employment in the area.
This region has been identified by the State Government as a Principal Regional Activity Centre for major growth in the Brisbane area, an encouraging factor for the LGA's long-term economic prospects.
Moreton Bay has numerous suburbs with rising demand, based on Hotspotting's quarterly surveys of sales activity – and price growth in the area is generally above Brisbane averages. – Terry Ryder

Redcliffe Peninsula
Moreton Bay
Property Profile
The Moreton Bay region has ranked as the busiest market in Greater Brisbane for some time and, in terms of the number of suburbs with rising sales activity, one of the leading LGAs in the nation.
The key attractions of the Moreton Bay property market are affordable prices, rail links, a new university campus and a bayside lifestyle for some precincts.
Most of the region's suburbs have median house prices below $500,000, with several in the $300,000s, and this is one of the key drawcards for buyers of all types.
With land being rezoned for higher density development as well house-and-land packages, especially along transport corridors, the region is attracting interstate migration and population growth.
The population in the Caboolture precinct, which includes Caboolture, Deception Bay, Burpengary, Morayfield and Narangba, is expected to increase by 24,000 between 2016 and 2021.
In support of this growth, it's estimated that 13,500 new dwellings will be needed. By 2041, Moreton Bay Regional Council (MBRC) forecasts the region will need an additional 88,000 dwellings.
Houses priced in the $300,000s or low $400,000s are readily available in most suburbs, the cheapest option being Caboolture South where the median price is $295,000.
Vacancy Rates
Vacancy rates are generally low, with most postcodes currently below 3.0% – and some are under 2%.
Those suburbs where new land estates are being developed have been higher in the last 2–3 years. This includes Burpengary and Narangba, though Narangba is now below 3.0%. Burpengary is 3.3%.
This means that the region generally presents an attractive package for investors: affordable prices, low vacancies and above-average rental yields.
The steady uplift in buyer activity suggests that the modest growth in median prices seen in several suburbs is likely to spread throughout this region.
Future Prospects
The Moreton Bay Region is one of the fastest- growing urban areas in Australia.
With 3,800ha of vacant land suitable for residential and commercial projects, the region is expected to grow 40% over the next 20 years.
During this time, the suburbs of Kallangur, Murrumba Downs, Mango Hill, Rothwell, Kippa-Ring and Petrie are forecast to grow by 40,000 residents and 19,000 jobs.
The Morton Bay Regional Council (MBRC) has spent $980 million on community and transport infrastructure over the past six years and more serious infrastructure is predicted.
The Government has named Caboolture-Morayfield as a Principal Regional Activity Centre in the South East Queensland Regional Plan 2009-2031.
The $100 million Morayfield Health Hub which offers a range of medical facilities is an example of the new infrastructure while the Capestone master-planned community at Mango Hill is under development. It is now home to around 6,000 residents creating demand for the Capestone Shopping Centre which has recently opened.
Access to the Port of Brisbane and Brisbane Airport has been improved with the $1.1 billion Gateway Upgrade North project now complete.
This will improve road access for Moreton Bay Region residents who work in these precincts, which collectively comprise the largest jobs node in the Greater Brisbane Area.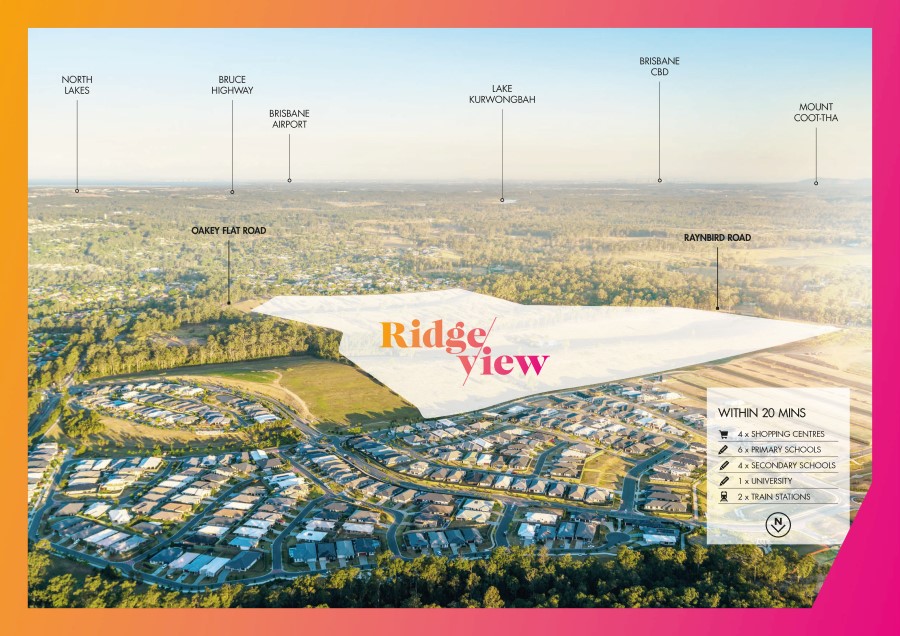 ABOUT RIDGEVIEW
Just 33km north of Brisbane, in the thriving suburb of Narangba, you'll find Ridgeview – a boutique new community by Satterley, Australia's largest privately owned land developer.
At Ridgeview, everything you need is on your door step, including major shopping centres, two train stations, plus easy access to Bruce Highway making travel to the city, airport or Sunshine Coast a breeze. Not to mention North Lakes is just 15 minutes away.
Enjoy a variety of childcare, primary and secondary schools just a short drive away, including one of the best in the state – Narangba Valley State High School. For the older ones, USC Caboolture tertiary campus is nearby, with a second campus in Petrierecently opened.
RIDGEVIEW SCHOOLS & EDUCATION. SETTING THEM UP FOR SUCCESS
Ridgeview is surrounded by childcare centres, primary and secondary schools, including one of the best secondary schools in the state – Narangba Valley State High School.
Plus, with USC Caboolture, and the USC Moreton Bay Petrie campus recently opened in 2020, you can rest easy knowing you're setting your kids up with the best chance of success. 
Primary Schools (within 10 mins)
Narangba Valley State School
Narangba State School
Carmichael College
Jinibara State School
Secondary Schools (within 10 mins)
Narangba Valley State High School
Burpengary State Secondary School
Arethusa College
St Eugene College 
Universities (within 15 mins)
USC Caboolture
USC Moreton Bay (Petrie) 
RIDGEVIEW SHOPPING & TRANSPORT
With four shopping centres within a 15-minute drive, plus supermarkets, cinemas and some of the most sought-after specialty stores around, you'll be spoiled for choice.
Shopping Centres (15 mins away)
Narangba Valley Shopping Centre
Burpengary Plaza
Morayfield Shopping Centre
Westfield North Lakes – including Ikea, Costco & cinemas
Train Stations (6 mins away)
There are two train stations just down the road, a major highway right around the corner, and plenty of free-flowing roads throughout the area. So no matter where you're headed, it's easy to get there.
Train Stations (6 mins away)
Narangba Train Station
Burpengary Train Station
A Typical Single-Story Home in Narangba
A Typical Terrace Home in Narangba