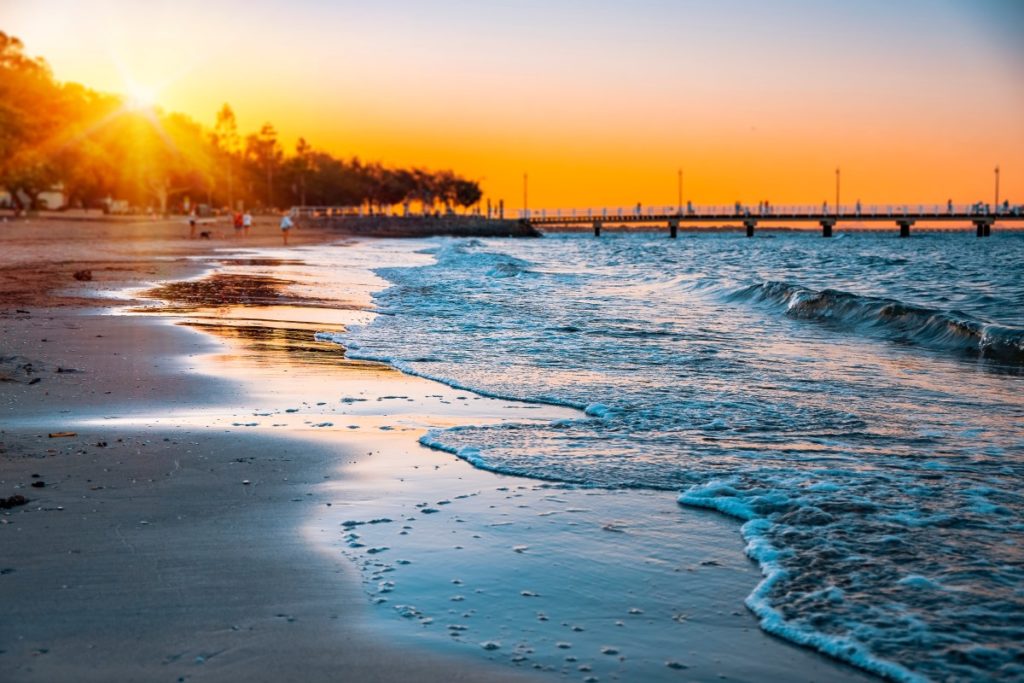 Sandgate Beach in the Moreton Bay Region.
*Beaches are generally 15 – 30 minutes drive from the developments 
Moreton Bay Region is one of the highest-growth Local Government Areas (LGA's) in Australia, spurred by high levels of infrastructure spending and attractive housing affordability.
This is attracting interstate migrants, first-home buyers and investors to the area, driving strong demand for housing.
With 3,800ha of vacant land suitable for residential and commercial projects, the region is expected to grow 40% over the next 20 years.
The Moreton Bay Region is strategically located between central Brisbane and the Sunshine Coast, making job nodes easily accessible. Properties are not only affordable but many suburbs are near the water, providing a sought-after lifestyle.
With ample land suitable for development, combined with recent changes to rezoning laws, the number of applications for residential estates has increased in the last 12 months. These are accompanied by construction of the $2 billion North East Business Park and a new university campus, which are creating new employment in the area.
This region has been identified by the State Government as a Principal Regional Activity Centre for major growth in the Brisbane area, an encouraging factor for the LGA's long-term economic prospects.
Moreton Bay has numerous suburbs with rising demand, based on Hotspotting's quarterly surveys of sales activity – and price growth in the area is generally above Brisbane averages. – Terry Ryder

Redcliffe Peninsula
Moreton Bay
Property Profile
The Moreton Bay region has ranked as the busiest market in Greater Brisbane for some time and, in terms of the number of suburbs with rising sales activity, one of the leading LGAs in the nation.
The key attractions of the Moreton Bay property market are affordable prices, rail links, a new university campus and a bayside lifestyle for some precincts.
Most of the region's suburbs have median house prices below $500,000, with several in the $300,000s, and this is one of the key drawcards for buyers of all types.
With land being rezoned for higher density development as well house-and-land packages, especially along transport corridors, the region is attracting interstate migration and population growth.
The population in the Caboolture precinct, which includes Caboolture, Deception Bay, Burpengary, Morayfield and Narangba, is expected to increase by 24,000 between 2016 and 2021.
In support of this growth, it's estimated that 13,500 new dwellings will be needed. By 2041, Moreton Bay Regional Council (MBRC) forecasts the region will need an additional 88,000 dwellings.
Houses priced in the $300,000s or low $400,000s are readily available in most suburbs, the cheapest option being Caboolture South where the median price is $295,000.
Vacancy Rates
Vacancy rates are generally low, with most postcodes currently below 3.0% – and some are under 2%.
Those suburbs where new land estates are being developed have been higher in the last 2–3 years. This includes Burpengary and Narangba, though Narangba is now below 3.0%. Burpengary is 3.3%.
This means that the region generally presents an attractive package for investors: affordable prices, low vacancies and above-average rental yields.
The steady uplift in buyer activity suggests that the modest growth in median prices seen in several suburbs is likely to spread throughout this region.
Economy and Amenities
Morayfield Shopping Centre is the principal shopping complex, anchored by Coles, Big W, Target and Kmart, with 150 speciality stores, 3,000 car parks and a Birch Carroll and Coyle Cinema.
Westfield North Lakes, which has recently undergone a $140 million expansion, is another major shopping centre in this precinct.
Caboolture has several state and private schools with more in the pipeline. The Caboolture North- East Primary School opened in January 2017.
Medical care can be sourced at Caboolture Hospital, a 206-bed hospital.
Attractions include an historical village and the Queensland State Equestrian Centre, a multipurpose events venue which hosts major equestrian events as well as the Farm Fantastic Expo.
There is also the Caboolture Hub comprising a conference centre, art gallery and library.
Sporting facilities include:
$13 million Moreton Bay Complex, Burpengary (AFL)
$9 million AFL precinct, Brendale
Caboolture Regional Aquatic Centre
Caboolture Golf Club
Centenary Lakes Sports Club & Function Centre.
City-train has regular train services from the Brisbane CBD to Caboolture and the Sunshine Coast; these stop at Caboolture, Morayfield, Burpengary and Narangba.
The new Moreton Bay Rail Link, which opened in October 2016, includes stations at Kallangur, Murrumba Downs, Griffin, Rothwell and Kippa-Ring.
Future Prospects
The Moreton Bay Region is one of the fastest- growing urban areas in Australia.
With 3,800ha of vacant land suitable for residential and commercial projects, the region is expected to grow 40% over the next 20 years.
MBRC has spent $980 million on community and transport infrastructure over the past six years and more serious infrastructure is predicted.
The Government has named Caboolture-Morayfield as a Principal Regional Activity Centre in the South East Queensland Regional Plan 2009-2031.
The $100 million Morayfield Health Hub which offers a range of medical facilities is an example of the new infrastructure while the Capestone master-planned community at Mango Hill is under development. It is now home to around 6,000 residents creating demand for the Capestone Shopping Centre which is
– North East BusinessPark, Caboolture
Another major development is the $2 billion North East Business Park, an integrated business, residential, commercial and light industrial precinct next to the M1.
The 769ha park will be developed over 15 years and will adjoin the master planned community at North Harbour along the Caboolture River. The park will feature:
169ha mixed industry/business area
350-berth marina
500 dry boat stacker
marina village
community facilities
1,600 residential housing lots
approximately 420ha of open space.
There is also the $90 million Corporate Park East next to the Caboolture Airfield which is under construction. The park will support 605 jobs.
Access to the Port of Brisbane and Brisbane Airport has been improved with the $1.1 billion Gateway Upgrade North project now complete.
This will improve road access for Moreton Bay Region residents who work in these precincts, which collectively comprise the largest jobs node in the Greater Brisbane Area.
– New University: Petrie
One of the key projects will be a university campus and precinct – the Mill at Moreton Bay – at Petrie.
Expected to open in 2020, the precinct would cater for 10,000 students by 2030 and, ultimately, 20,000 students. It is supported by Federal Government funding of $70 million to cover 7,200 student placements in the first three years.
The university precinct, declared a Priority Development Area in 2016, is expected to become a major tech hub that will provide 6,000 jobs by 2036. The educational facilities will be complemented by retail, commercial and residential sections. The project is estimated to give a $950 million annual boost to the local economy.
This project, coupled with the opening of the new Moreton Bay Rail Link, is expected to fuel population growth, prompting the MBRC to introduce incentives for developers.
– Tourism
Tourism is gaining in popularity, especially for day trippers and 4WD enthusiasts. Attractions such as Pumice Stone Passage, Redcliffe Peninsula, Mt Mee and Woodford Folk Festival lured 2.9 million visitors to the region in 2017.
Concerts at Sandstone Point have increased demand for accommodation and in November 2018, the $20 million BIG4Sandstone Point Holiday Resort opened.
There are also plans for a permanent Abbeystowe tourist attraction in Caboolture with the MBRC signing off on a feasibility study into the creation of a 14th century medieval village.
The proposed project has been likened to Ballarat's Sovereign Hill which employs 1,500 workers and contributes $228 million to the local economy.
Other areas identified by the State Government for future development include Narangba East and Elimbah East, with Strathpine as a Major Regional Activity Centre.
Land around the Petrie and Strathpine train stations and the Strathpine Shopping Centre has been rezoned for medium-density housing while Gympie Rd has been earmarked to be a boulevard.
These are longer-term projects, but in the meantime, MBRC has announced plans to allow 1,600dwellings to be built at Warner.
The proposed Warner Investigation Area requires 130 changes to zoning laws with state approval.
Strathpine and Morayfield train stations are undergoing upgrades as part of the Queensland Government's$300 million station upgrade program.
There are plans by the State Government to turn run- down buildings on Bribie Island into an aquaculture hub. The land is part of the Bribie Island Research Centre and aquaculture is worth $125 million to the Queensland economy.
But probably the most interesting proposal is the Caboolture West Master Plan which covers 6,500ha west of Caboolture and Morayfield and extends north beyond Wamuran.
The Caboolture West site has been selected because much infrastructure is already in place and it is not significantly affected by slope, flood, water supply catchment areas or Class A agricultural land.
It is projected that Caboolture West would have a 40- year development horizon accommodating 70,000 residents. There would be seven new suburbs, three high schools, nine primary schools and new commercial and industrial areas.
There are provisions in the plan for 17,000 full-time jobs in the region, according to the local council.
To accommodate the expected growth from Caboolture West, as well as Morayfield South and Pine Valley, the Department of Transport and Main Roads will carry out a transport corridor study in 2019.
The Moreton Bay Western Arterial Corridor study will examine possible routes for an arterial road linking Dohles Rocks Rd, Kallangur, to Steve Irwin Way, Beerburrum.
MBRC plans to spend $26 million on improvements to three sporting facilities:
Queensland State Equestrian Centre
Moreton Bay Central Sports Complex
Morayfield Sports & Event Centre.
MORAYFIELD SOUTH
Affinity Estate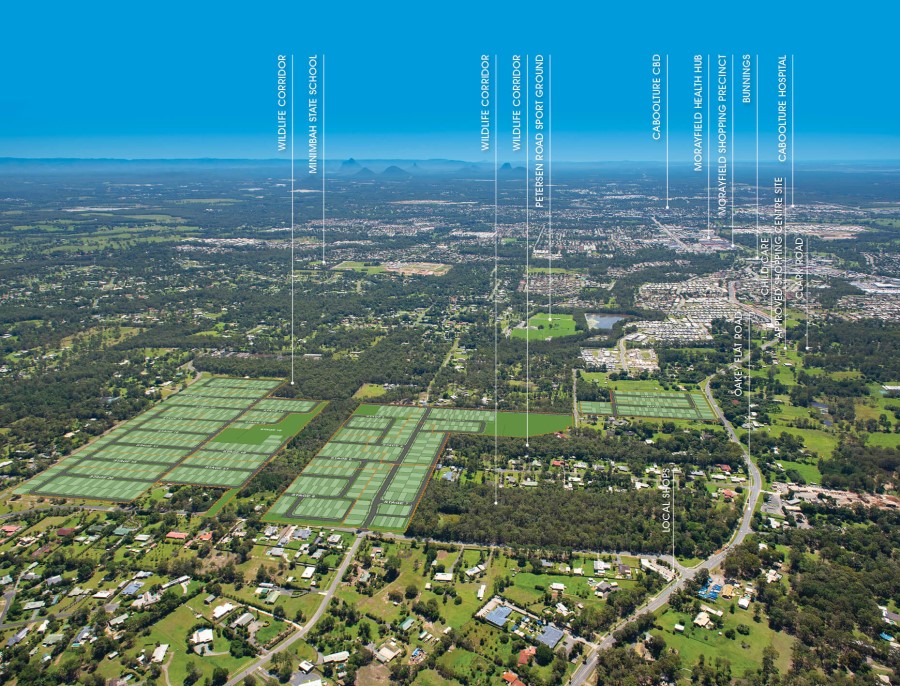 ABOUT AFFINITY ESTATE
Just 38km north of Brisbane, Affinity Estate is the next Trask Land master planned community making the dream of living in the booming Northern Brisbane suburbs a reality.
The Estate has been thoughtfully created to provide a mosaic of lifestyle choices. With over 800 lots on offer, if you are a first home buyer, custom home builder or downsizer, there will be a lot size and location to meet your needs.
Country living with city convenience
Centrally located, the area has access to major shopping complexes, educational and sporting facilities. An easy 10 minute drive is all it takes to arrive at direct rail services to Brisbane City and the Sunshine Coast.
Affinity Estate, with its rural like surrounds is the ideal work, play and live location situated within one of South East Queensland's fastest growing suburbs – Morayfield. 
A Typical Single-Story House in Morayfield 
A Typical Terrace Home in Morayfield