Greater Springfield is the first master-planned city since Canberra.
This major developmental undertaking has turned South East Queensland's western corridor into one of the nation's fastest growing regions.
A comprehensive masterplan, declared the world's best by the International Real Estate Federation, guides this growth.
Every aspect has been meticulously planned to meet the needs of a thriving community from local jobs to learning opportunities.
Spring Mountain forms part of Greater Springfield, and within Spring Mountain are further satellite suburbs including Springfield Rise which features several distinct addresses, such as Sunset Ridge, Creekwood, and Forest Ridge.
At nearby Education City, the University of Southern Queensland's campus is doubling in size to meet demand, as is Orion Springfield Central.
A major expansion will transform it into one of Queensland's largest shopping centres and see Coles, Target, Event Cinemas,
Orion Hotel, JB Hi-Fi and Peter McMahon's Swim Factory join existing retailers Witchery, Sportsgirl, BIG W, ALDI and Woolworths.
Health City, a unique 52-hectare medical and wellness precinct, is taking shape with the first stage of the 1,200-bed Mater Private Hospital Springfield now open.  The $85 million stage one incorporates operating theatres, inpatient wards, day surgery unit, medical imaging services and a cancer care centre.
More than 43,000 people have already made the move to Greater Springfield and they're on the way to a population of over 100,000 by the end of the decade. 
This incredible and innovative community is at the epicentre of one of Australia's fastest growing regions. As the country's largest master-planned urban environment, Greater Springfield has become a nation-building blueprint for what a 21st century city should be.
With one job planned for every three residents, they're building more than just homes, they're creating an economy based around the sectors that will power Australia's future: health, education, and innovation. No wonder organisations like the Mater Hospital, University of Southern Queensland, GE and Northrop Grumman call Springfield home.
With a plan to be Australia's first zero net energy city by 2038, they're also making it more efficient to live and do business in Springfield by embracing renewable energy, electric vehicles and lower power bills.
As a lifestyle hub, more than 30% of the city is designated as green space, with the stunning Robelle Domain and one of the largest public water parks in the hemisphere at its heart. Our community sporting facilities are among the best in the world, and include Queensland's #1 ranked public access golf course, and, from next year, the home of the Brisbane Lions Football Club.
Key distances are:
– 1min to walking track and linear open space
– 2mins to Orion Shopping Centre
– 2mins to the brand new Spring Mountain State School
– 3mins to Springfield Central Train Station
– 15mins to Ipswich CBD
– 35mins to Brisbane CBD
To view an interactive map of Greater Springfield, and an overlay of the anticipated infrastructure to be completed between 2020 and 2040 CLICK HERE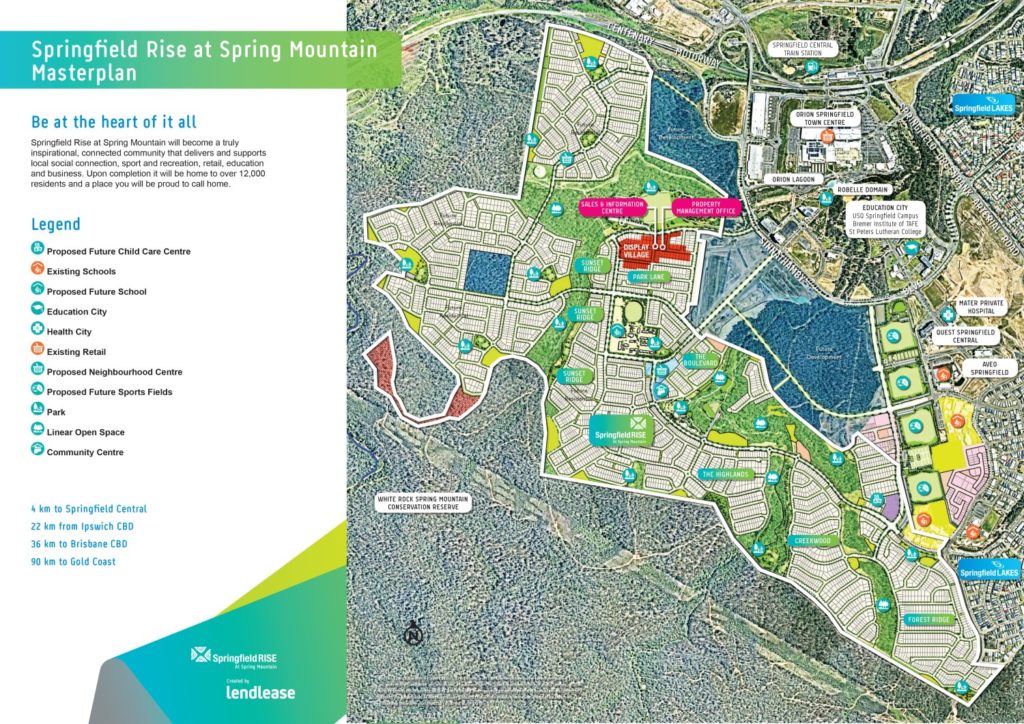 Premium Quality Built – Tenant Friendly Location
Why Springfield Rise at Spring Mountain?
Why Providence?
A progressive, vibrant and modern new town, that brings back true neighbourhood living.
By its very definition, Providence South Ripley is about nurturing and care. And it is a value held dear to the team building this visionary town.
Committed to recapturing the essence of community, Providence South Ripley is a special place created to respect the beautiful natural environment, the pioneering past, and the people who call it home. It is already shaping up to be a thriving, welcoming, fully-serviced town where you can enjoy the true value of genuine neighbourhood living.
Providence South Ripley is considered by many to be the "Penrith" of Brisbane, and is a true master planned community.
Situated in Brisbane West's Growth Corridor, Ipswich is just 10 minutes away and the Brisbane CBD only 30 minutes away.
Providence South Ripley estate is 80% plus owner occupied which insures capital growth. Bank valuations are coming in on the dollar which further backs up the quality of this estate.
Infrastructure yet to arrive that will drive capital growth:
A Shopping Complex that will end up larger than Mount Gravatt in Brisbane's South.
Only 10 minutes drive to Amberly Airforce Base and the $5 Billion Military Tank manufacturing factories.
Predicted to have 3919% growth in residents over the next 24 years (source: Brisbane Transurban)
Just 8 minutes drive to Springfield Central which a standout growth hub of Brisbane.
True investors can see the growth coming on a regular basis and economic expansion is backed by all levels of government.
LOCATION
Providence is ideally positioned with easy access to Greater Springfield and downtown Ipswich.
Ripley Town Centre: 4 mins
Orion Springfield Town Centre: 6 mins
Downtown Ipswich: 10 mins
Brisbane CBD: 40 mins
Brisbane Airport via the Legacy Way Tunnel: 40 mins
 
THE VISION
"A progressive, vibrant and modern new town, that brings back true neighbourhood living."
The heart of vibrant community life
Home to a healthy natural environment
An address designed around residents
A connected community