Greenbank Investment Property Info

Greenbank is located in a fast growing area of South East Queensland, approximately 30km South of Brisbane CBD.
The population of Greenbank set to more than double in size over the next 25-years, causing significant growth which will put increased demand on the current dwelling supply.
The projected population increase will create demand for an additional 1,395 new dwellings each year across the Greenbank Catchment.
The Greenbank area has been recording strong long-term median price growth across both house and land markets, and the key property market drivers of population growth, infrastructure spending and employment are remaining strong.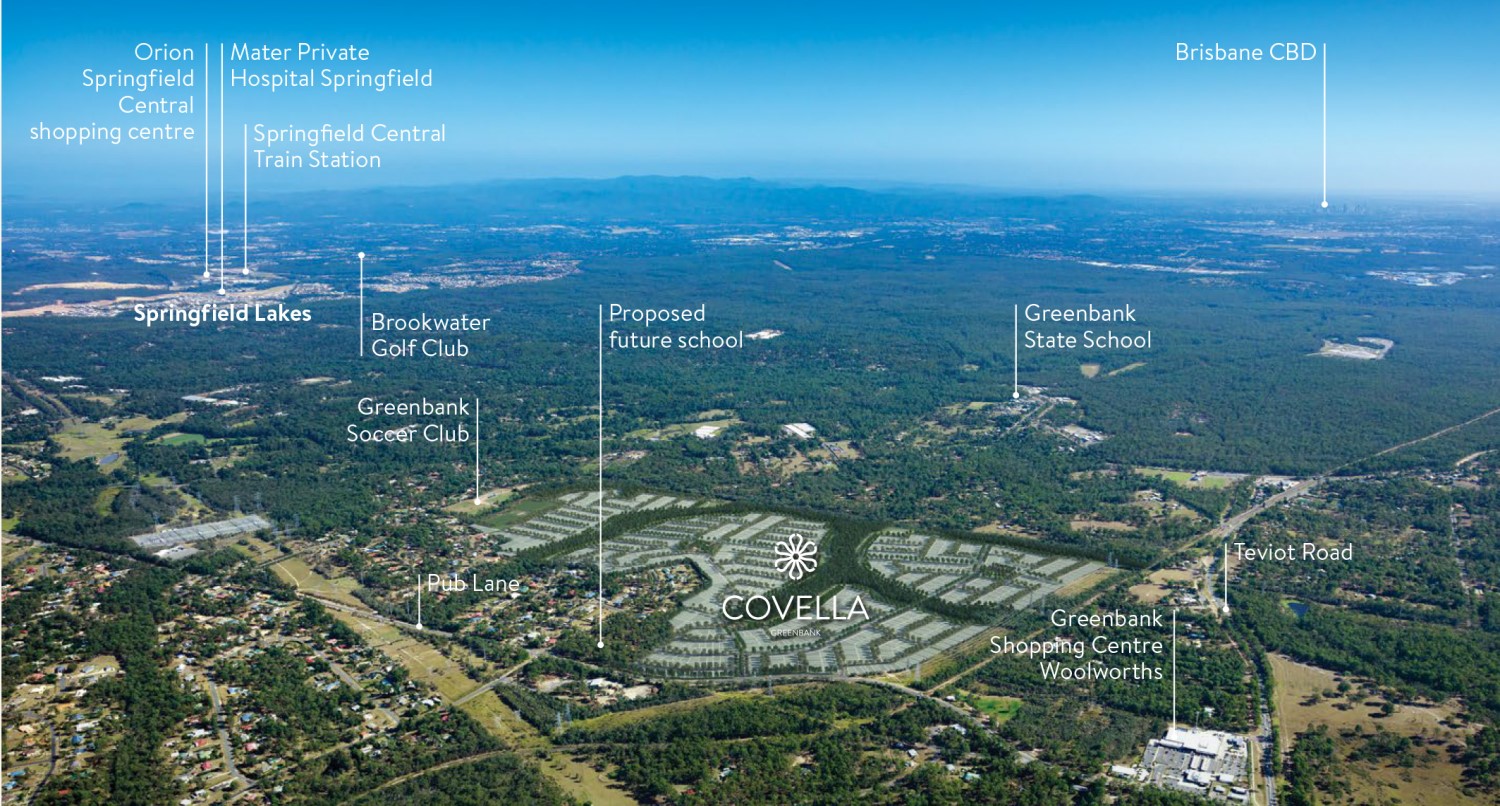 Covella Estate
Covella is a contemporary master planned address. A collective of residential neighbourhoods designed to grow in harmony with the surrounding Australian bushland and connect families with its natural beauty.
The vision for Covella is to create a contemporary
place to live for families at all different stages in life.
A place connected by lush green spaces. Where you and your family can live an active and healthy life and build your home within easy reach of local amenities.
Some 50 hectares or around one third of Covella will be preserved as open green space. A range of parks and playing fields have been incorporated throughout the four neighbourhoods – as meeting and recreation spaces for residents.
Living at Covella means local Greenbank shopping, schools and sports clubs are nearby while a host of facilities in Springfield Lakes – including the Robelle Domain waterpark & playground, Mater Private Hospital Springfield, The University of Southern Queensland, Brookwater Golf Club and Orion Springfield Central shopping centre – are just minutes away. With a Woolworths just down the road and a school proposed for Covella's entry, everything you need is within easy reach.
Covlella will be a collective of residential neighbourhoods designed to grow in harmony with the surrounding Australian bushland, and to connect families with its natural beauty.
Themed recreation zones will portray the character of each neighbourhood and provide a sense of belonging for its residents. 
The Lilybrook Estate

A Private Estate Boasting Just 52 Exclusive Lots Adjacent To A Future Green Corridor
Lilybrook is a brand new master crafted development that's perfectly positioned in the
growth corridor between Brisbane and the Gold
Coast. This private estate boasts just 52 exclusive
lots, all nestled in a secluded enclave set amongst
pristine, wide open spaces.
Choose from 12 stylish and contemporary home
designs all appointed with a premium selection
of European appliances, quality finishes and
fixtures, and pendant lighting as standard
inclusions. Designed to complement their natural
surroundings, Lilybrook homes are as livable as
they are functional.